7 Signs You Have Whiplash and Need to See a Plantation Chiropractor
7 Signs You Have Whiplash and Need to See a Plantation Chiropractor
Written By Community Health & Wellness Center on October 12, 2020
---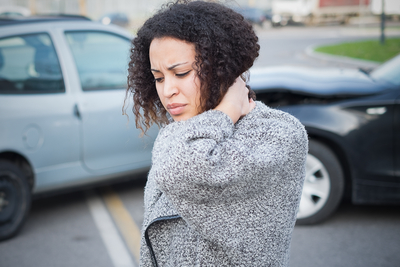 You've just been in an accident. You don't notice any painful symptoms yet – maybe just some tenderness in your shoulder muscles. No big deal, right? Unfortunately, It could be a sign of whiplash and that you need auto accident treatment from a Plantation chiropractor.
Could You Have Whiplash? 7 Signs of a Whiplash Injury
It isn't uncommon for people to sustain a whiplash injury in an auto accident. A recent study found that approximately 21% of low-impact accidents (less than 10 MPH) can cause a neck injury. It's not difficult to imagine the damage that can occur in more serious collisions.
How can you tell if you have whiplash? Here are the most common symptoms.
Neck pain and stiffness

Pain that's worse with neck movement

Headaches that start at the base of your skull

Reduced range of motion in your neck

Pain or tenderness in the shoulders, upper back, and arms

Arm tingling or numbness

Fatigue and dizziness
Why You Need Chiropractic Auto Accident Treatment
When you sustain an injury, your body jumps into action. It initiates an inflammatory response, and scar tissue will develop. In the interim, these consequences are helpful. Left untreated, though, and you could end up with serious issues down the road, including:
Chronic Inflammation

: In addition to pain, inflammation can cause swelling, stiffness, and reduced mobility.

Scar Tissue Build-Up

:

Scar tissue

is connective tissue with limited flexibility. If it continues to build-up, you'll notice a reduction in mobility, flexibility, and range of motion.
Your Plantation chiropractor can provide an auto accident treatment plan that will help give you real relief from pain and prevent long-term damage.
Your First Post-Accident Call Should Be to Your Planation Chiropractor
If you've been in an accident, don't hesitate to call your Plantation chiropractor. Even if you're currently without pain, seeing a chiropractor right away will benefit your body, as well as your insurance claim and potential court case.
Drs. Dinner, Ficara, and Gettinger will be able to provide a diagnosis, create an auto accident treatment plan, and inform you of the potential for long-term issues.
All of this information is pertinent to both your insurance company, as well as your lawyer should you wish to pursue litigation.
Is your neck sore? Do you have chronic headaches? We can help! Contact our office at 954-370-7246 to schedule an appointment.

Posted In: Chiropractic Whiplash Auto Injury Treatment