Chiropractic Care for Neck Pain
Chiropractic Care for Neck Pain
Written By Community Health & Wellness Center on February 26, 2021
---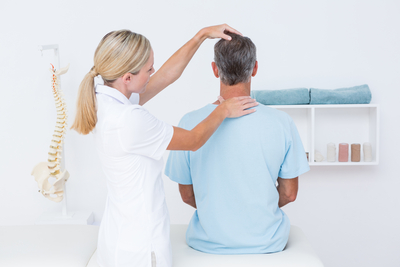 Neck pain is most prevalent in individuals in their mid to late 40s. However, everyone is susceptible to neck pain. If you spend long hours on the computer for work or study, you're probably familiar with this category of pain.
Most of us just take temporary pain relievers to get rid of the soreness. But the discomfort usually always returns after another long day of work.
If you want to treat the cause of your neck pain – and not just find temporary relief – you should look into chiropractic care to heal yourself properly.
What Causes Neck Pain?
Your cervical spine – or neck bones – are very flexible. This flexibility is great for side-to-side head rotation. But it also increases your chances of suffering a neck injury that can lead to serious pain.
Some common causes of neck pain include:
Whiplash from a car accident
Aging
Spinal diseases
Poor posture
Facing a lot of stress can also cause your muscles to strain, resulting in neck soreness and discomfort. The pain caused by neck injuries can also extend to your back and shoulders, making it difficult to complete even the most menial daily tasks.
The good news is you can treat your neck pain using non-invasive chiropractic techniques.
How Can Chiropractic Care Heal My Neck Pain?
When you visit Community Health and Wellness Center to treat your neck pain, Dr. Howard Dinner will perform tests to determine the main cause of your pain. Once he knows how the pain started, he will use different chiropractic techniques, such as neck adjustments, to quickly relieve your pain.
Neck adjustments help restore your spine so you can easily move again without discomfort. Aside from this spinal manipulation, Dr. Dinner may also include other therapies in your treatment plan, such as massage and daily exercises, so you can get the best results as quickly as possible.
Schedule an appointment with Dr. Howard Dinner today to learn more about how chiropractic care can help treat your neck pain.

Posted In: Chiropractic Neck Pain Treatment