Spinal Decompression for Herniated Discs From Auto Accidents
Spinal Decompression for Herniated Discs From Auto Accidents
Written By Community Health & Wellness Center on July 10, 2020
---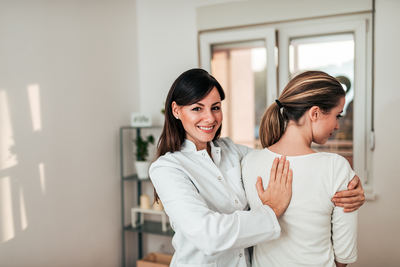 In 2018 there were around 6,734,000 motor vehicle accidents in the United States alone. Of that amount, 1,894,000 of those accidents resulted in injury. Some accident-related injuries are apparent while others are more subtle, such as whiplash or persistent pain. For some, herniated discs from auto accidents can cause of the pain. Fortunately, non-invasive treatments are available, including spinal decompression and other chiropractic services.
What Are Herniated Discs?
The vertebral if your spine is held together by spinal discs that provide mobility and act as shock absorbers. These discs have a hard outer shell and a softer, spongy inner core. When these discs become damaged by injury, disease, or wear and tear, conditions such as herniated discs can occur. Herniated discs are the result of some of that softer tissue slipping out of cracks in the outer shell of the spinal disc.
If you have herniated discs from auto accidents, you may experience:
Back pain, which may be minor or debilitating
Arm or leg pain
Tingling or numbness
Muscle weakness
Spinal Decompression Treatment for Herniated Discs From Auto Accidents
Treatment for herniated discs from auto accidents varies based on the severity of the injury. However, for many patients, spinal decompression is an effective treatment method that avoids surgical procedures and the use of pain medication.
Spinal decompression involves the use of a traction table or a similar motorized device to stretch the spine gently. This provides benefits such as:
The retraction or repositioning of herniated discs from auto accidents
The creation of lower pressure in the spinal disc that will promote healing
Finding Treatment for Herniated Discs From Auto Accidents in Plantation
Spinal compression and other chiropractic treatments are an effective way to treat herniated discs from auto accidents. At Community Health & Wellness, Dr. Howard Dinner works with patients to create the best treatment plan for them. Your first visit will include a consultation, a discussion of your medical history and injuries, a physical exam, and a review of treatment options. Imaging will be taken, if necessary. In some cases, same-day treatments may be available to help reduce pain and get on track towards recovery.
Are you reviewing treatment options for herniated discs from auto accidents? Don't wait. Call our office today at (954) 370-7246 or schedule an appointment online to get started.

Posted In: Chiropractic Spinal Decompression